$35 Millones recaudados en Somos Live!
Cuando Jlo y Marc Anthony se unen para cualquier cosa sabes que el resultado sera fenomenal!
La antigua pareja romantica organizo un evento lleno de estrellas internacionales en dos campos simultaneamente uniendo ambas costas de los Estados Unidos para un concierto historico y benefico a los afectados por los recientes desastres naturales en Puerto Rico el Caribe y Mexico.
One Voice: Somos Live!: Conducido por Jennifer Lopez y Alex Rodriguez fue un espectaculo de maximas proporciones!
Presentaciones espectaculares de: Jennifer, Marc, Demi Lovato, Maroon 5, Stevie Wonder, Ricky Martin, Chris Martin, Jamie Foxx, Mary J. Blige, Andra Day, Maxwell, Camila, Julia Michaels, Gente de Zona, DJ Khaled, Magic!, Prince Royce, Nicky Jam, Romeo Santos, Alejandro Sanz, and Daddy Yankee. Otras celebridades también dijeron presente como Christina Aguilera, The Chainsmokers, Sean "Diddy" Combs, Vin Diesel, Selena Gomez, Kim Kardashian, Nicole Richie, Sofia Vergara, Jada Pinkett Smith, Ciara, y muchos mas. 9 Millones fueron recaudados solo esa noche en el concierto simultáneo desde LA hasta Miami y fueron directos a Feeding America, Save the Children, Habitat for Humanity, United Way, UNICEF, and Unidos for Puerto Rico. En total la pareja poderosa han recaudado $35 Millones para los necesitados. Wow
La pareja se sentó con ENews y dijeron "Tener una pareja como ARod es increíble sin preguntarle el dijo presente a ayudar a esta noble causa" dijo Jennifer como Alex se sintió responsable en ayudar y enlazar el dueño del equipo de los Yankees aportar para unirse a la causa fue algo muy bonito.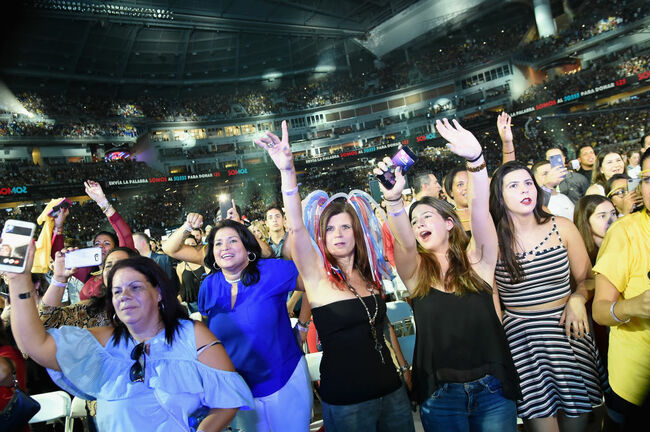 TU 949 estuvo presente en el evento con todas nuestras personalidades K Marie Enrique Santos Andy Pita Ozzi Muñiz y Alex G todos unidos junto a Dee Trillo directora de contenido digital para iHeart Latino en una suite entrevistando a las estrellas después de su presentación como Prince Royce, J Balvin, Bad Bunny, Chayanne fueron parte del elenco de estrellas que visitaron nuestra suite para hablarnos de su experiencia personal sobre somos Live.
Fotos: Getty Images